Prevent Getting Sick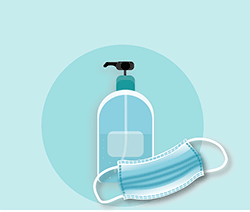 The virus spreads mainly from person-to-person
When people are within 6 feet for at least 15 minutes
Through water droplets produced when an infected person coughs, sneezes, talks, sings or shouts.
You can stop the spread of COVID-19
Wash your hands often

Wash with soap and water for at least 20 seconds

Before eating or preparing food
Before touching your face
After using the restroom
After leaving a public place
After blowing your nose, coughing, or sneezing
After handling your mask
After changing a diaper
After caring for someone sick
After touching animals or pets

If soap and water are not available:

Use a hand sanitizer that contains at least 60% alcohol. Cover all surfaces of your hands and rub them together until they feel dry.

Avoid touching your eyes, nose, and mouth with unwashed hands.
Limit contact with people outside your household

Stay at least 6 feet away from others when you leave home


Face coverings should be washed regularly. For more information, click here.

Cover your coughs and sneezes

Clean and disinfect high touch surfaces like your phone and doorknobs

Monitor your health daily