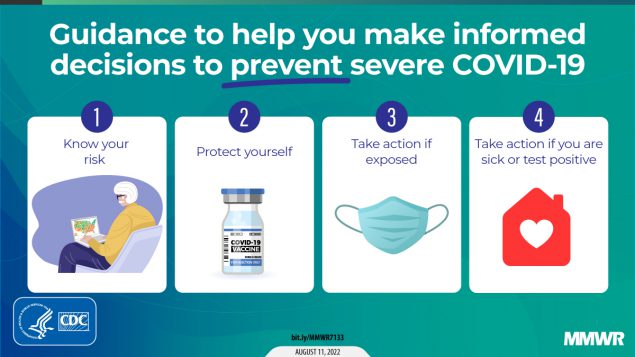 Follow these tips for protection against COVID-19:
Get vaccinated and boosted – vaccination is the single most important action to prevent severe disease and death from COVID-19.
Layer your protection — in addition to vaccination and masking, improve ventilation (or gather outdoors), get tested if exposed or ill, and stay home if sick.
Talk to your medical provider if you are immunocompromised or have other health risks.
You can choose to wear a mask, especially if you answer yes to any of the following:
Are you over age 65 or have health issues that puts you at risk for a severe case of COVID-19?
Are you missing your most recent recommended COVID-19 vaccine dose?
Do you live/visit with people at risk of going to the hospital if they get COVID-19?
Do you go to work or interact with the public regularly?
Is the COVID-19 Hospital Admission Level High where you live, in your social group, or where you are going?
Do you feel safer with a mask?