Don't wait: Treatment is available
and recommended for most adults.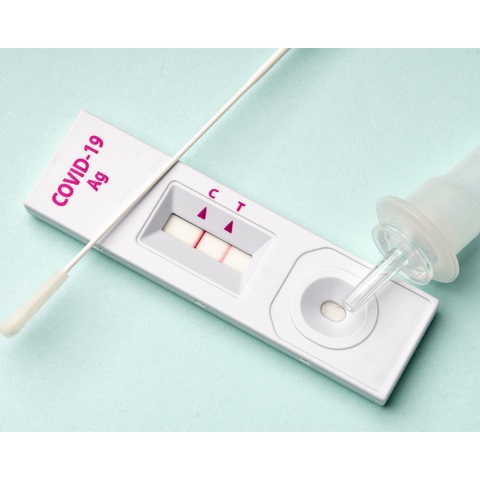 Just tested positive for COVID-19?
DON'T WAIT!
Contact your health care provider
AS SOON AS YOU TEST POSITIVE
and isolate immediately to prevent infecting others.
If you are uninsured, have high co-pays or can't reach your provider, you can speak with a healthcare provider for FREE by phone at
1-833-686-5051 (6:00 AM – 4:00 PM PST, 7 days a week)
or by video appointment at
sesamecare.com/covidca
*There is currently no cost for most COVID-19 medications themselves, but you could get charged for the visit with a healthcare provider if you don't have insurance.


Need help or other options?
Call the Alameda County Community Support Line at 510-268-2101
For more information about COVID-19 treatments:
Call the statewide COVID-19 hotline at 833-422-4255 (M - F 8 a.m. to 8 p.m. PDT and Sat/Sun 8 a.m. to 5:00 p.m. PDT)
OR
Call State Medi-nurse line at 1-877-409-9052 to speak with a nurse for free 24/7 about COVID symptoms
General Treatment Information
Most Adults and Some Teens
Safe, highly effective, free, widely available and recommended for
anyone 12 years old and older who:
Has COVID-19 symptoms, AND
Have COVID-19 symptoms that started within the last 5-7 days
Have certain factors and conditions that put them at higher risk for severe COVID-19 illness
Note: Special Treatment for children less than 12 years old may be available through a Pediatrician

Early evidence also suggests treatment may lower the risk of developing long COVID symptoms.For additional information in multiple languages:
Medications that can stop COVID-19 illness from getting serious.
They are free, widely available, and highly effective. Some can be taken at home by pill and others are given by IV.
Know Your Treatment Options for COVID-19 flyer (PDF): English (other languages coming soon)
To prevent serious illness, hospitalization and death from COVID-19.
To lower the risk of developing long COVID symptoms.
To prevent the virus from multiplying in your body and infecting more of your cells, which can help you test negative sooner.
Treatments must be taken within 5-7 days of when symptoms begin.
So if you start to feel sick, act fast to get a COVID-19 test and free treatment.
Get treatment while your illness is mild – don't wait until your illness gets worse.
State or Federal Test-to-Treat Locations
Your healthcare provider
You can refer yourself for IV treatment, available by completing a form at the following links:

Stanford Medical Center, Palo Alto

Monoclonal Antibodies for Treatment

Currently due to the number of resistant COVID-19 variants there are no monoclonal antibodies authorized for outpatient treatment.

Monoclonal Antibodies for Prevention

Monoclonal antibodies are proteins that help boost the immune system. Monoclonal antibodies are proteins that help boost the immune system. Currently due to the number of resistant COVID-19 variants there are no monoclonal antibodies authorized for prevention.
What is COVID-19 Rebound?
A small number of people have tested positive or developed COVID-19 symptoms after finishing their prescribed course of treatment with Paxlovid, usually within 2 to 8 days (known as "COVID-19 rebound"). Some people have also experienced COVID-19 rebound without taking Paxlovid.
If you experience COVID-19 rebound, you should
isolate
again, for a minimum of 5 days. You can end re-isolation after 5 days if you are fever-free for 24 hours without the use of fever-reducing medication and your symptoms are improving. You should also wear a mask for 10 days around other people, as you can spread COVID-19 to others during a rebound infection.
People are reporting their rebound symptoms as mild to moderate. No severe disease or deaths have been reported in persons experiencing COVID-19 rebound. Contact a healthcare provider if your COVID-19 rebound symptoms persist or worsen.
Despite the small possibility of symptoms returning after taking Paxlovid, it is still the preferred treatment for mild to moderate COVID-19 among
persons at high risk
for severe disease. Treatment has been proven to prevent severe disease, hospitalization, death, and may help prevent other long-term effects of COVID-19.
You can report a possible case of COVID-19 rebound after Paxlovid treatment to Pfizer using the following online tool: 
Pfizer Safety Reporting
Contact your provider right away and tell them that you tested positive and are interested in treatment.
If you tested positive on a home test, take a picture of the test card in case your provider wants to see it. It's OK if your provider wants to give you another test where you get the results right away. A PCR test, which gets sent to a lab, is NOT necessary and can delay treatment!
Your provider might give you a phone, telehealth or in-person appointment to review your symptoms, medical conditions and current medications.
Paxlovid is the preferred treatment for COVID-19. Paxlovid is a combination of two medications that are taken together by mouth once a day for 5 days. Your healthcare provider will tell you if you need to stop taking any of your other medications for a few days in order to take Paxlovid. Make sure to let your provider know about ALL the medications you are taking, even herbal and over-the-counter medications.
You or a family member/friend will need to pick your prescription up at a pharmacy, unless you use a pharmacy that delivers or there is a pharmacy at your provider's office.
Your healthcare provider might suggest a different medication instead of Paxlovid. Some medications need to be given intravenously (IV). Your provider can let you know where to go to get this type of medication.
You can get treatment in the following ways WITHOUT insurance:
Test at home and call CA COVID Telehealth line 833-686-5051
Go to a testing & treatment site -List of sites link[ testing page document with all current sites]
Need Help? Call 510-268-2101 - Alameda County Public Health Department's COVID Line for more information about where to go for treatment and treatment options.